Grape Street Café, Wine Bar & Cellar Tops off 2013 with a Night of Merriment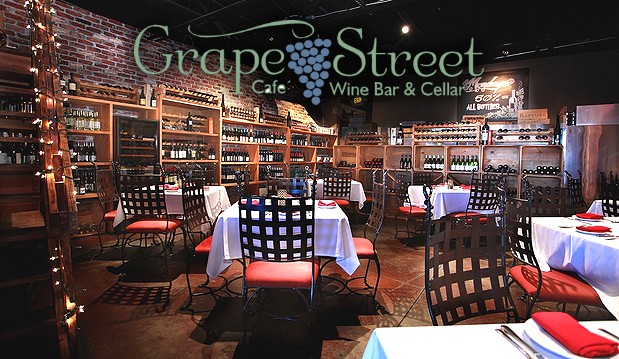 LAS VEGAS – Grape Street Café, Wine Bar & Cellar is hosting a New Year's Eve celebration on Tuesday, Dec. 31. The night's festivities will kick off at 10 p.m. with half-priced wine and champagne bottle specials and a live set from Las Vegas' very own, Castano and the Upfront Band. Dinner and dessert specials will also be available throughout the evening until 2 a.m.
Dinner specials will include: stuffed two-pound Maine lobster with roasted potatoes and steamed asparagus, $69; 24-ounce prime bone-in rib eye with a bleu cheese brandy peppercorn sauce, roasted potatoes asparagus and baby carrots, $47; grilled Australian lamb chops with portobello mushroom risotto, asparagus and a Cabernet sauce, $45; pan roasted Chilean sea bass with a soy ginger garlic sauce, mashed potatoes and sautéed spinach, $39; sesame seed encrusted Hawaiian tuna with leek mashed potatoes, asparagus and a soy ginger wasabi aioli, $37; braised boneless beef short ribs with a portobello mushroom risotto and sautéed spinach, $29; veal parmigiana with a side of spaghetti marinara, $28; and shrimp scampi over linguine, $27.
"2013 has been wonderful to us," said John McKibben, executive chef & owner of Grape Street Café, Wine Bar & Cellar. "A night surrounded by family and friends with great music, an abundance of wine and a hearty meal is the perfect way to cap off a great year whilst greeting a promising 2014."
About Grape Street Café, Wine Bar & Cellar
Grape Street opened in Las Vegas in November 1997 and offers an Italian, Mediterranean and California bistro style menu. The restaurant has been ranked "very good to excellent" by Zagat for its cuisine and was named a "Top 10 Las Vegas Wine Bar Restaurant" by Gayot. With a full retail license customers can purchase bottles of wine to go for 50 percent off or 60 percent off for a case. Grape Street is located at 7501 W Lake Mead Blvd. and is open Sunday through Thursday from 11 a.m. to 10 p.m. and Friday through Saturday from 11 a.m. to 11 p.m. Grape Street Café, Wine Bar & Cellar visit www.grapestreetvegas.com or call 702.228.9463.
"Like" Grape Street Café, Wine Bar & Cellar on Facebook.